India: A hub for top 10 fastest growing cities in the world
What are the top names that strike your mind when we talk about the wealthiest cities in the world? New York, Tokyo, Los Angeles and London are the top names one can think of. Be that as it may, in light of yearly total national output (GDP) development Asian urban communities – especially those in India – are controlling in front of other urban economies.
Recently research was conducted by Oxford Economics which tells, all the top fastest growing cities in GDP will be in India for the year 2019- 2035.
Also from West to East, here are the top cities included in the list.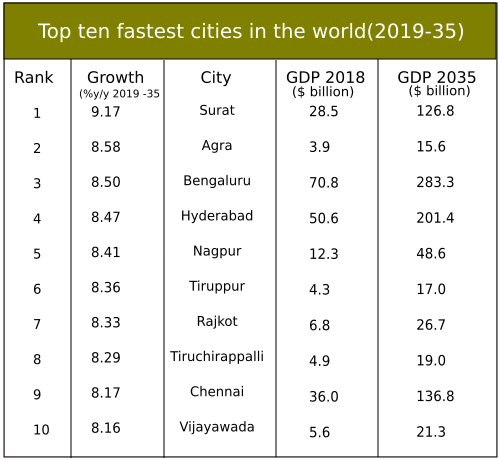 Here is a list of all the 10 states:
Surat: The diamond city of the country will have the fastest economic growth in the world.
Agra: The city of Taj Mahal is not just a hub to the wonders of the world but also the second fastest economic growing city in the world.
Bangalore: A city famous as the Information Technology hub of the country is one of the cities that will generate an average GDP of 71 billion.
Hyderabad: Apart from being well known for its Biryani, Hyderabad is supposed to witness a GDP growth of 8.47 %.
Nagpur: One of the hottest cities in India, Nagpur will have 8.41% GDPA.
Tiruppur: This city located in Tamil Nadu and the fifth largest urban agglomeration of the state is in the list too.
Rajkot: For Gujrat's state Rajkot, the GDPA growth percentage will be 8.33%
Tiruchirapalli, Chennai and Vijayawada are the other cities on the list.
Also from West to East, here are the top cities included in the list.
---
---
---