Sortd: The finest way to of site optimisation and monetization with your mobile solutions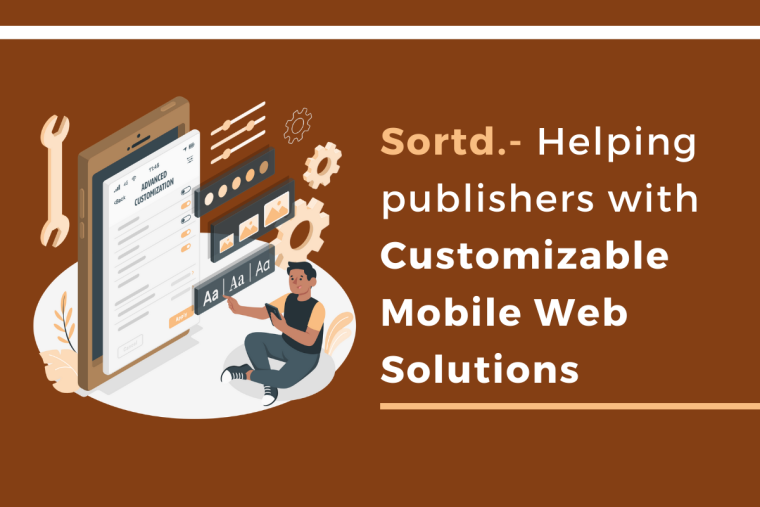 The needs and demands of publishers keep on updating frequently. After all, the audience consuming the content is always looking for something exciting. However, being loaded with creating engaging content, publishers don't have enough time to come up with user-friendly and impressive features all the time. Every publisher needs someone to help with the latest tech trends, user interface updates and the best hacks to bring more and more users. A helping hand needs to take a lead to make it happen!
This is where Sortd. comes in the picture.
What is Sortd. ?
In simple terms, Sortd. is your one-stop solution for the publishers to deliver rich content in the most appealing and user-friendly way. With Sortd. publishers can leverage the benefit of great engagement with their customers via high quality customizable mobile web solutions.
Let's know more about Sortd and how it can benefit the publishers in multiple ways.
What does Sortd offer?
Native Apps: Build a wholesome mobile experience for your readers with Native Apps. Apps built with C++, Swift and Kotlin, top-notch performance is ensured which also allows easy payment for digital subscriptions. Sortd. offers a standalone CMS for managing all aspects of the app without any interference to your primary CMS.
Content discovery, augmentation, support, custom themes, e-paper integration and user personalization are some of the features for a splendid native experience.
Progressive Web Apps: Mobile web engagement and revenue generation are highly dependent on load time, speed and effortless browsing. Sortd. builds Progressive Web Apps combining the best of web and mobile apps. With the best app-like interface, offline access and the ability to re-engage, build a fast and reliable site with a plethora of features to keep your users happy.
Along with this, you can provide a flawless and fast-loading site with the in-built core web vitals. Focus on what matters the most for your site performance with Cumulative Layout Shift for visual stability, First Input Delay for Interactivity and Largest Contentful Paint for load time. Get your core web vitals to score up to the mark with Sortd.
Accelerated Mobile Pages: Following the baseline AMP practices, build a light, fast and fresh mobile experience for your readers. 40 per cent of consumers will abandon a website that takes more than three seconds to load, Sortd. makes you AMP ready with seamlessly fitting layouts. You can easily switch components on the go and make the most of analytical measurements, major ad formats support, Canonical and AMP HTML linking etc.
Monetization: Sortd. provides the best monetization support with its products like Readwhere Unity. This is a unified auction solution enabling multiple ad exchanges and multiple ad technologies to access your inventory and bid accordingly. Unity supports web open bidding, video open bidding and apps open bidding. Sortd. allows publishers to easily grow their revenue with various types of ads, mobile web solutions and effective tools like Unify toolbar.
Check out the Unify Toolbar here.
Smart TV Apps: Publishers can now provide a fabulous living room experience with the Smart TV Apps developed by Sortd. With the rise in OTT platforms and Smart TVs, offering a lean-back and relaxing experience has become the need of the hour. With features like easy app launching and streaming, large display experience and compatibility with smart devices, news publishers can connect with their audience in a smarter way. Give a heads up to better engagement with Sortd. Smart TV Apps development!
Site Optimisation: Sortd. offers the best way to the publishers to maximize their yields along with an impressive user experience. From May 2021, site speed performance and core web vitals will contribute to search ranking and organic traffic. Hence, there is no alternative to site optimization. It is essential for publishers to analyze websites thoroughly and upgrade the overall performance. Publishers can get their conversion rates higher with the best site optimization techniques.
With Sortd. the top user retention practices, growing website traffic management, timely analysis, recirculation, lightning speed performance and many more things have become so easy and manageable.
If you are a publisher who wishes to take their online business to the next level, get in touch with Sortd. now.
---
---
---