NEET UG 2019 ; Experts tips for last minute preparation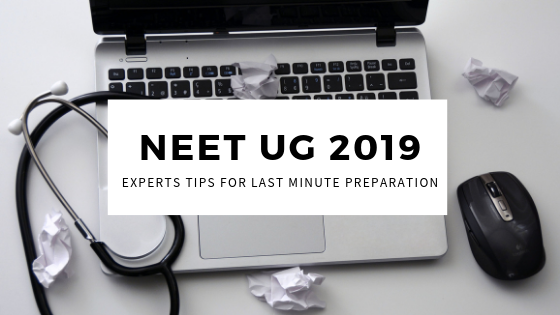 NEET UG 2018 is just around the corner. Like any other exam, every NEET aspirants might feel nervous and anxious. But this is not the time to feel nervous because it might ruin the year-long hard work & patience put in. NEET aspirants need to apply a well-planned & well-tested strategy to crack the exam with a good rank.
We are sharing few tips to all the aspirants and we hope it will help them to keep their spirits high for the final day.
Revise basics:

Take up the NCERT books and revise the basic concepts thoroughly. Don't rush into learning new things at this point. Learning & not understanding new things will only increase stress. It is better to revise your strong areas with your notes.

Relax & avoid mental fatigue:

During the course of your preparation, you might have developed the habit of studying at stretch especially till late night. You might want to change this habit a bit now. Study with shirt breaks so that the stress level is kept down. It will also help you stay fresh during the day hours.

Revise formulae:

Revise all the important formulae. It will simply help you in problem-solving.

Eat Light, be light:

Since summer is also in, so avoid eating heavy meals or too much cold. You don't want to fall sick during this week. Eat light food, with a lot of fluids.

Focus Areas:

Focus on important areas in every subject.
Biology- Ecology and Environment, Genetics, Cell Biology, Morphology, Reproduction and Physiology of Plants and Animals, Basics of Biotechnology
Physics: Thermodynamics and Nuclear Physics, Mechanics, Optics
Chemistry – Chemical Bonding, Mole Concept, Periodic Table, General Organic Chemistry
In addition to this, Take the mock tests to plan your time management strategy. If you feel stuck in some question, leave it to solve it later. Do the question which you think are easier to solve.

---
---
---