How to prepare for IBPS PO exam at home?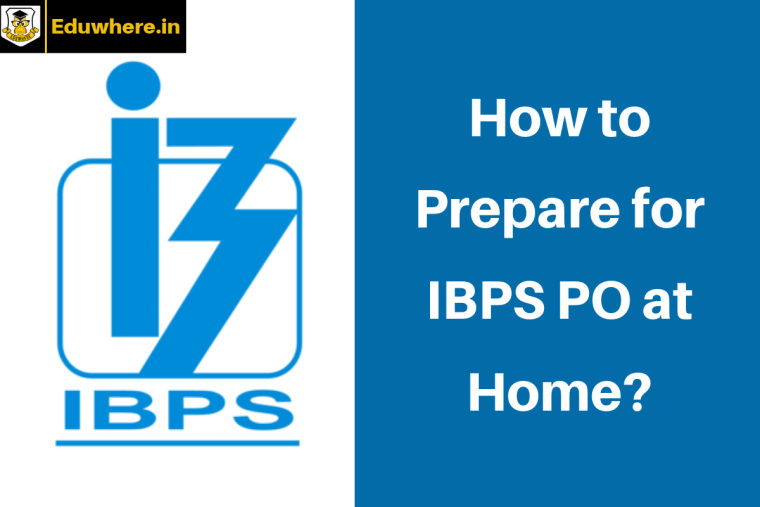 Banking jobs are considered one of the most sought-after, high-profile and respectful career options. Every year lakhs of students apply for the exams out of which only a few thousand make it to the final selection. For IBPS PO 2019 that is scheduled to be conducted on October 12, 13, 19 & 20, 2019, a large number of students have filled out the application form. Though the exam is tough due to the high competition level, it can be easily cracked with the right preparation strategies and dedication. As the exam is just a month away, without wasting any time, let's come directly to the point. Look at tips to crack one of the most important banking exams in India.
Based on the competition, some students join coaching institutes while others prefer to study on their own. Those who join coaching get ample tips and tricks from their teachers. But what about the students who prefer self-study? They keep wondering how to prepare for the exam from home and usually end up wasting time and efforts with wrong suggestions and guidance. In this article, we provide useful IBPS PO exam preparation tips for the students who want to study from home. The tips given here will help you find the answer to your question, 'how to prepare for IBPS PO exam at home?'
About the IBPS PO exam
The first thing is to know the exam well by getting an understanding of the syllabus, exam pattern, marking scheme etc. IBPS PO is conducted in two stages: IBPS PO Prelims and IBPS PO Main. Candidates who clear IBPS prelims only qualify to appear for the next level which is IBPS PO Main.
· There will be 100 questions IBPS PO Prelims
· The question paper will be divided into three sections: English, QA and Reasoning Ability
· IBPS PO Main will have 5 sections including English, Logical Reasoning, Quantitative Aptitude, General Knowledge and Banking Awareness and Computer Aptitude
IBPS PO syllabus 2019
Knowing details of IBPS PO syllabus 2019 is essential to ace the exam. As the exam syllabus is different for both stages, you need to carefully check it and make your study plan accordingly. Here is the syllabus of IBPS PO exam for both the phases.
IBPS PO Preliminary Exam Syllabus
This level of the exam has questions from three sections: English, Reasoning and Quantitative Aptitude. You should check all the topics and spend enough time on preparing them to score well in the final exam.
IBPS PO Mains Exam Syllabus
This is the most crucial level as your selection for the final interview round depends on your performance in IBPS PO Mains. So, check the syllabus here and prepare well for the exam.
IBPS PO Mains Exam Syllabus
IBPS PO 2019 Exam Pattern
Aspirants must go through the syllabus and exam pattern before starting preparation for the exam. IBPS PO exam pattern is different for both Prelims and Mains.
IBPS PO Exam Pattern for Prelims
As per IBPS PO Prelims exam pattern there will be 100 questions to solve which candidates need 60 minutes. There will be one correct mark for each question and negative marking of 0.25 for each incorrect answer.
IBPS PO Exam Pattern for Mains
IBPS PO Mains exam pattern is a bit different from the prelims. So, students need to prepare for the exam accordingly. At this level, the exam has Descriptive paper where candidates need to show their writing skills. Aspirants need to write an essay and a letter of 25 marks in a time period of 30 minutes. The overall exam has 45 questions of 60 marks to solve which candidates get 3 hours.
IBPS PO Mains 2019 exam pattern
Tips to Crack IBPS PO
Do your SWOT analysis
As you have decided to study at home for IBPS PO exam preparation, it is important to understand your strengths and weaknesses. It will not only help you prepare an effective strategy but also devote time wisely and crack the exam with the right plan.
Prepare a study plan
The first step is to prepare a list of all topics from each section and make a time table. Make sure you allot time for each section; however, the amount of time might vary based on the difficulty level of the section. For instance, for subjects like General Knowledge and Computer Knowledge, spending 30 minutes every day is also enough.
Form a peer group
Studying from home doesn't mean you cannot have group studies. You can form a group of serious IBPS PO aspirants and study together. It will help you find out new methods to cover difficult topics, different ways to solve questions and other study tips. But make sure the group has only serious aspirants.
Revise the basics
This is the time to focus on revision and practice. As you were busy covering the syllabus, there are chances you might have forgotten some basic formulas or tricks. Revising these basics one last time will ensure that you can apply them properly in the exam to give the right answers.
Don't procrastinate
This is one of the common problems with the students studying at home. Those who attend coaching classes have a fixed schedule every day, which ensures that they study everything. You need to develop the self-discipline to strictly abide by the study plan and cover the syllabus on time with proper revision and practice by solving mock tests.
Keep a track of your progress
You must regularly analyse your progress and make the required changes in your study plan. The best way to keep track of your progress is to solve mock tests. You can easily find the best platforms like Eduwhere to get online mock tests prepared by experienced teachers. Usually, these websites provide tests along with answer keys and detailed performance analysis reports, using which you can easily understand your strengths and weaknesses.
Pay attention to your health
You must stay fit during the preparation period. From proper sleep to a healthy diet, regular breaks, relaxation and some meditation for mind, you should focus on everything.
IBPS PO Sectional Preparation Tips
English
· Read popular English newspapers every day
· Practice reading passages on topics like sports, fiction, history etc.
· Work on your basic grammar concepts
· Practice Cloze test by solving mock tests
Quantitative Aptitude
· Spend at least 40 minutes every day on this section
· Learn shortcut tricks for lengthy problems
· Work on your speed by solving practice tests
Reasoning
· Spend time on different topics based on their difficulty level
· Makes notes of important points and steps to solve the questions
· Check example questions and practice as many questions as you can
With the right strategies, confidence and an effective preparation plan, you can crack the IBPS PO exam by studying from home. Just follow the tips given here and put your all energy towards the achievement of your goal.
---
---
---