Register now for Eduwhere's CLAT 2019 Free National Mock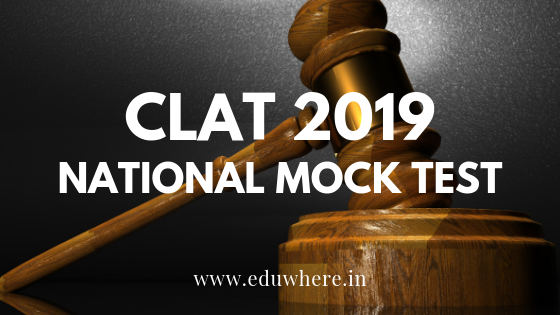 CLAT 2019 examination will be held on 26th May 2019 in offline mode and all the candidates must be busy revising the important topics in these final hours. As this is a centralized examination for getting admission in 21 national law universities in India, law aspirants have to work hard for it.
Are you all set for CLAT 2019 examination?
For making this task a bit easier for everyone, your study partner Eduwhere is here with free CLAT national mock test for all the candidates appearing for upcoming CLAT 2019 exams.
Being one of the CLAT 2019 candidates, you must be willing to know how well you are prepared for the upcoming battle?
Wouldn't it be great if you can find a way to know where you stand among all the candidates preparing throughout the country?
The idea sounds appealing, isn't it?
Eduwhere has good news for everyone!
We are conducting a FREE national mock test for all the candidates appearing for CLAT 2019 exams throughout the country.
Eduwhere CLAT National Mock Details
Test Start Time: 13th May 8 am
Test End Time: 14th May 8 pm
You are free to take the test anytime between the mentioned slot. All you need to do is, simply register for the CLAT national mock test at Eduwhere and wait for the test to begin.
The result of your test will be displayed instantly. You can view your percentile score, number score, detailed solution report and rank analysis in your results. The detailed analysis report will be available on 28th April.
What's exciting about Eduwhere National Mock Test?
Once all the students have appeared for the test, you will get to know about your performance among all the students who have taken the test.
Percentile Score

National Rank

Individual scores in each subject

Detailed subject analysis

Accuracy

Section Analysis
With this, you can have a crystal clear idea about the topics of CLAT 2019 where you need to revise harder to perform well in the examination.
What's the best part of the national mock test?
Eduwhere provides this national mock test for all the CLAT aspirants for FREE. You heard it right, as this opportunity comes to you for free, please ensure that you make the most of it.
If you haven't enrolled yourself yet then do it now and do not miss this chance to attend the national mock test. Help yourself to get a crystal clear idea regarding your strengths and weaknesses for your upcoming battle.
We hope you all will appear and score well not just in this mock session but also in the CLAT 2019 examination
Team Eduwhere wishes you good luck and hopes that you clear the examination with flying colors!
---
---
---