Alex Nilson
@Alex Nilson
Freelancer
---
Posts made by Alex Nilson
The number of children on the internet has increased dramatically in recent years. According to a study conducted by Unicef, 1 in 3 internet users are school-age children and adolescents. These expressive numbers reinforce the importance of working on children's safety and behavior in the digital environment. This "mission" is assigned to parents and educators, responsible for the initial training of these individuals.
Some parents are not sure how to guide their children, but fear for their safety on the internet. Some parents, who have a greater affinity for technology, use software and applications to promote control over Internet use. Like, for example, sites that feature pornographic content and incite violence.
This software also allows you to control access times to social networks, and other applications, which prevents unsupervised use of the internet. However, it is important to report, that it is essential that parents talk to their children frequently about this topic. Maintaining an open dialogue on digital media is of paramount importance for the safety of children.
Exposure and sending information
One of the main guidelines that parents should pass on to children is not to inform personal data on networks without authorization and supervision. Not only personal data, such as: name, address etc, avoiding excessive exposure of your daily life on the internet is very important. Establishing some rules for sending photos is also a valid premise to protect children and adolescents on the internet.
Another relevant point is to have unrestricted access to the social networks of children and adolescents. In possession of the credentials, the guardians must supervise the actions taken by their children on the internet, prioritizing their safety.
Fake profiles and the false sense of anonymity
It is necessary to guide children about fake profiles, anonymity and the false sense of anonymity that the internet provides. Teach them that some malicious people create profiles using other people's photos and names to commit crimes of all kinds.
These fake profiles are often used by pedophiles to approach children. Supervising the children's conversations and instructing them not to exchange photos with strangers or to arrange meetings is very important. Another point to be discussed is the false sense of anonymity that one has on the internet. Children should be advised that on the internet and outside, they are the same person, therefore, they must act correctly and respectfully inside and outside the digital environment.
The dangers of online games
Online games, harmless as they may seem, can bring serious problems associated with digital security. Sites for downloading applications or direct access to games are perfect baits for hosting malware that can infect devices and cause damage. It is worth mentioning that the problem is not limited to computers, but shared use mobile devices. This type of compromise can lead to the hijacking of personal data (ramsonware), capture of bank passwords and other problems causing financial losses.
However, financial losses do not characterize the biggest problems associated with online games. This environment has also been used by malicious individuals to coerce children and adolescents, resulting in crimes of the most varied types, including pedophilia, fraud, kidnapping, among others.
Sites that encourage the safe use of the internet by children
There are some websites that teach children the basics of security and digital citizenship. A great example in this sense is "Be Internet Awesome", an initiative by Google, supported by other institutions, which makes available a variety of materials, such as games, manuals, activities, highly playful training to introduce children to the concept of digital citizenship.
Expository essays are often assigned in academic settings. In such an essay you need to consider an idea, research it, explain it, and then create an argument. While it may seem overwhelming, writing an expository essay is straightforward as long as you do it one step at a time.
Define your goal.
Think about why you are writing an expository essay.
Write down some of the reasons you will be writing it and what you hope to do with it when you complete it.
If you're writing it for an assignment, read the guidelines provided.

Ask your teacher in case something is not clear to you.
Also, if you want to know how to write an illustration essay visit meowessay.
Consider your audience.
Think about who will read your expository essay.
Before you start writing, consider the needs and expectations of your readers.
As you write your essay, write down some of the things to keep in mind about your readers.
If you're writing it for a class, think about the points your teacher will expect you to include in it.
Think of some ideas for the expository essay. Before you start writing your essay, you should take some time to develop your ideas and write them down. Invention activities such as list-making, freewriting, grouping, and asking questions can help you develop ideas for your expository essay.
Make a list.

Make a list of all your ideas for the expository essay.

Then look at the list and group similar ideas.

Expand it by adding more ideas or by using another prewriting activity.

Try freewriting.

Write non-stop for about 10 minutes.

Write whatever comes to mind without editing anything.

When you finish writing, review the text.

Highlight or underline the most important information for your expository essay.

Repeat this exercise, using the passages you underlined as a starting point.

You can repeat it many times to continue refining and developing your ideas.

Try idea grouping.

Write a brief explanation of the topic of your expository essay in the center of a sheet of paper and circle it.

Then draw three or more lines that extend from the circle.

Write a pertinent idea at the end of each of these lines.

Keep developing the grouping until you have explored as many connections as you can.

Try asking questions.

On a piece of paper, write "Who?

Than?

When?

Where?

Why?

How?".

Space the questions about two or three lines apart so that you can write your answers on them.

Answer each question in as much detail as possible.
Write a draft. Once you've put some of your ideas down on paper, you may want to organize them into a draft before you start writing your essay. You can write an essay draft to plan your overall essay, develop more ideas, and find out if you forgot anything.
There is nothing more attractive to criminals than a carefree tourist. This goes for both cybercrime and physical crime, there are even times when the two intersect. To stay protected, you should use the best personal VPN for travel available in 2020.
Many of today's problems are common. This is why you should use a VPN for general travel. But, there are some differences and new risks this year that have not been as prominent in the past. To read more cybersecurity while traveling you should navigate here.

On the one hand, there are many more 'free WiFi' posts, especially in parks and coffee shops; some are simply unsafe, while others are truly criminal. And with more stuff on our phones than ever before, we must keep those devices safe.
Also, there are risks when we pay with NFC systems because pickpockets have found a way to swipe our banking information directly from our phones and cards. This type of digital pickpocketing has become much more prevalent.
Fortunately, with the help of professional cybersecurity apps and a bit of caution, you can be safe wherever you travel. And there is always the benefit of the internet being available, regardless of national ISP restrictions.
What has changed?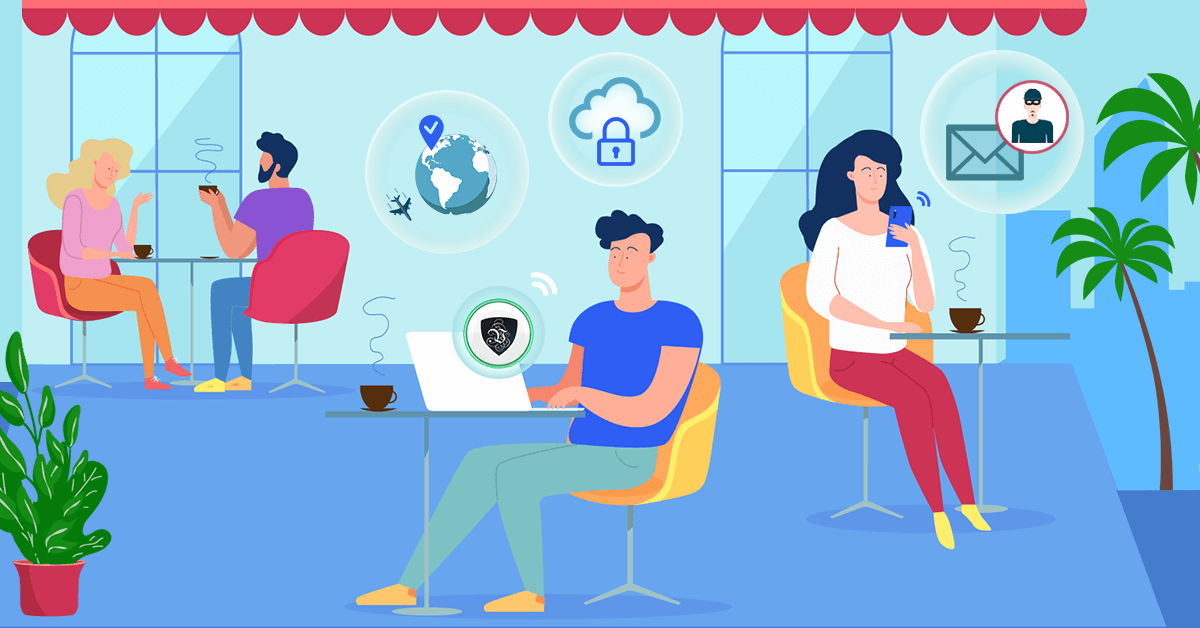 In the same way that defensive technology has advanced over the years, hackers and data thieves have not stood still. There are new ways to attack your privacy and personal information from multiple sides.
Perhaps the most important problem will be the type of data collection issued by various countries and administrations. This shouldn't stop you from traveling, but it could be a good reason for you to keep your general information off the internet.
On the other hand, there are individual threats. With the amount of data that everyone keeps on their phone, you should always keep your device safe. This includes both physically taking care that someone doesn't steal it, and making it impossible to access the data without your face, thumb, and password.
Free Wifi in Abundance
In tourist destinations around the world, now you can access free WiFi from anywhere. Almost all bars and cafes will have some kind of WiFi scheme to add to their service.
But few places have the knowledge and foresight to secure their connections. Without a good Wifi VPN app installed, your device will be open to all kinds of spying. Fortunately, you can quickly and easily install a free VPN on any device.
Greater Geolocation Restrictions
For most of the world, the year 2020 skipped the roaring twenties and went straight into the Great Depression. Unlike the one we had a century ago, this era is marked by people huddled in their homes and watching programming online.
For most companies, this meant new and more stringent licenses, which imposed even more restrictions depending on your location. Now, you can't even reach most of YouTube in many parts of the planet.
Fortunately, this is resolved the same as before. Simply change the server location on your personal VPN to travel to a country like Iceland, and you will have most of the online content available. Your browser will display content in Nordic Icelandic, but consider it a learning opportunity.
New Risks
The the main problem today is not only how much of our essential data is stored on our smartphone, but also how much of our life, in general, is online. Few people have truly embraced cyber hygiene and stopped publishing their lives for the enjoyment of others.
This brings a set of new risks that can arise if someone can steal or infect your phone with malware or spyware. If you look compromised, your phone can tell your attackers more about you than you could in an honest conversation.
There are reasonable solutions, but you have to make sure you use them. Keeping an eye on what you have online and what you carry on your phone is the only way to be sure.
Digital Pickpocketing
Although the technology is still in its infancy, becoming a victim of digital pickpocketing is no laughing matter. Even if none of your money is stolen, but instead locks your account, that can be a serious problem when you are abroad.
It would be useful if you practiced activating your payment option only when you make a purchase and deactivating it immediately afterward.
Finally, some materials prevent this form of theft, and you may want to consider investing in a metal wallet that protects you from digital pickpockets.
Personal VPN Software for Travel - Better Than Ever
Even with all of these issues reaching the cybersecurity stage, VPN protection is now better than ever. As our phones became much faster and stronger, the new VPN apps are virtually unnoticeable and offer seamless VPN services.
The software is made to actively prevent anyone from spying on your connection and device, making it easier than ever.
Conclusion
It seems that 2020 is going to be an adventure for everyone, with or without our consent. So at least you can make it the experience you want.