GKEXAMS DAILY
@GKEXAMS DAILY
---
Posts made by GKEXAMS DAILY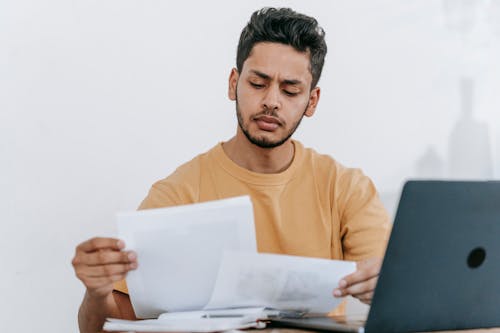 There are only a few days left before tests, thus it's critical to use excellent revision strategies that will raise your score on the UPSC Preliminary Examination.
In order to help readers improve their exam paper scores, we've compiled a list of some effective revision strategies that some of the best students also use.
Best Revision Techniques For Improving Your Score-
Revision plays an extremely vital role in the entire UPSC Preparation. However, it holds even more important during the last few days before the examination. Here are some topper-proof revision techniques that can significantly improve your score in the final UPSC Prelims examination.
1. Mind-Mapping-
The most successful revising strategy is, in essence, mind mapping. Write the subject you want to revise on a sheet of paper. Then begin by writing whatever you remember about that subject down or revising it in your head. You'll be astonished by the outcomes! It basically instructs your brain to compile all the knowledge you may have read on the subject at various times.
2. Memory-Hooks-
Memory hooks are essential items you can connect to the main elements of your subject. For instance, it can be difficult to remember dates, but if you try to connect them to something you already know, they become easier to recall. Use this method to memorize all the significant Polity articles or historical dates.
3. Use of Mnemonics-
In essence, mnemonics help you remember knowledge by using several techniques. For instance, learn CCC FRENS, which stands for Coal, Crude Oil, Cement, Fertilizers, Refinery Products, Electricity, Natural Gas, and Steel, to learn the eight essential sectors of the Indian economy. Create your own mnemonics to help you remember lengthy or complicated information.
4. Calculated Guesswork-
First and foremost, always keep in mind that the UPSC Paper has negative markings. So, if you ever feel the need to make more attempts, make calculated guesses. By eliminating the possibilities, you should only take a risk and mark the choice you believe to be the correct one if you have a 50% chance of being correct. Otherwise, it might be best to ignore the query.
Final Tip: Belief in yourself
You've done enough studying to ensure that you'll perform at your very best in the final exam. Therefore, try to maintain your composure. Best wishes!
Important: Get the best material for all types of Government Competitive exams, visit the Gk exam and learn for absolutely free.
On Monday, the Indian rupee sank to a new low against the US dollar, striking 78.20. The rupee has lost 5% of its value since January 2022, owing to a stronger US dollar index, rising oil costs, and dollar outflows from Indian equity and bond markets.
In the first five months of 2022, foreign institutional investors withdrew nearly Rs 2,15,000 crore, which is more than they brought in over a 12-year period from 2009 to 2021.
This mentality is evident in the stock market as well. Since January, both the Nifty and the 30-share BSE Sensex have lost more than 10% of their value.
Interest rates are rising all around the world, which is one of the reasons for the selloff. When interest rates rise, foreign institutional investors (FIIs) begin to withdraw funds from risky markets such as India, and the rupee's depreciation adds to their fears. The strengthening of the US currency is seen as a negative for emerging markets.
"In the coming week, weak domestic markets, rising crude oil prices, a strong dollar, and continued foreign capital outflows are projected to put pressure on the domestic currency." In a note published on Sunday, IFA Global stated.
Why has Rupee Fallen?
"The rupee has broken through seventy-eight, however, it's still in line with different currencies when put next to the US greenback. Capital is moving to safe havens like the US. the continuing Ukraine conflict, that has resulted in provide delays and skyrocketing oil costs, has injured development prospects and raised capital prices. This has caused FIIs to withdraw funds, weakening the rupee "Astha Mago, Associate Director at consumer Associates, shared her thoughts.
"In the last decade, the INR has lost roughly Rs. 20 in worth, and given the present state of affairs, it should lose significantly more.
Although India isn't the sole country laid low by the present currency crisis, Asian and Central European currencies have additionally seen volatility. However, the key participants during this dealings area unit the US's aggressive perspective to its economy and India's magnified inflation projections. The United States' financial policies have resulted in magnified interest rates and a restricted provide of the dollar.
This imbalance not solely incorporates a negative impact on foreign fund outflows, however, it additionally incorporates a negative impact on rock oil imports. The stock exchange has already been broken, with the cracking and Sensex plunging even lower these days, and will continue to disparage the Indian economy in terms of fuel prices. At this point, For India to survive this hit, bold fiscal policies are required," stated Sonam Chandwani, Managing Partner, KS Legal, and Associates.
The Rising Dollar Index-
The US dollar index is still rising as it continues to outperform other currencies. The US dollar index, which was created in 1973, is used to compare the value of the US dollar to the euro, Swiss franc, Japanese yen, Canadian dollar, British pound, and Swedish krona. The index's value is a good indicator of the dollar's value in international markets. When the USDX rises, it indicates that the US dollar is gaining strength or value against other currencies.
When the value of the dollar rises, so does the value of all underlying assets tied to it. Stocks of American corporations, treasury bonds, US government bonds, currency bonds, and other securities fall under this category.
"The U.S. dollar index (DXY) has climbed all over again and is on the verge of testing the one hundred and five-level. As a result, rising market (EM) currencies area unit losing ground against the dollar. The strains on these currencies area unit being exacerbated by rising oil prices. High oil costs cause "imported inflation," which has AN influence on company profitableness and foreign direct investment (FDI) inflows. the value of Indian crude is at a ten-year high. The agency is depreciatory as a result of these world events "Vijay Bhambwani expressed his thoughts. Equitymaster's Head of analysis activity Technical Analysis.
How Does Rupee Depreciate?
"When one rupee buys additional bucks, the rupee strengthens, and the other way around." A rupee fall is triggered once investors sell rupee-based investments in favor of dollar-based ones, that is the reason of the present rupee collapse. The rupee fell to Associate in Nursing very cheap these days as additional investors sold out rupee-based investments in favor of bucks. As Asian country buys over their exports, this might exacerbate inflationary pressures, in line with Anushkaa Arora, Principal & founder, ABA law office.
Interest Rate and The Rupee-
The US Federal Reserve is projected to raise policy rates by 75 basis points in reaction to historic retail inflation in the United States. When the Federal Reserve of the United States raises interest rates, the return on dollar assets rises in comparison to those in emerging countries like India.
"When Rupee depreciates, Fll's investment value reduced that impacts the total invested amount. So to prevent further loss, Flis sell their investment to hedge the loss," said Sameer Jain, Managing Partner, PSL Advocates & Solicitors.
The rupee-dollar exchange rate is altered as money moves out of India, devaluing the rupee. Such depreciation puts significant downward pressure on already high crude and raw material import prices, paving the way for higher imported inflation and manufacturing costs, as well as increased retail inflation.
Crude Oil-
Since Russia's invasion of Ukraine in late February, the rupee has been under increased pressure as the geopolitical crisis has worsened. 85 percent of India's energy requirements are met by crude oil imports. When oil prices rise, it puts pressure on the rupee since India's import expenses rise as a result of rising crude prices. On May 21, the Brent crude price was approximately $110 per barrel, but it has since risen to $122 per barrel. The RBI used a $105 international oil price rate to forecast inflation in its latest policy review last week.
"Based on a normal monsoon in 2022 and an average crude oil price of $105 per barrel (Indian basket)." Inflation is now expected to be 6.7 percent in 2022-23, with OT at 75%, Q2 at 7.4 percent, Q3 at 6.2 percent, and Q4 at 5.8 percent, with risks evenly balanced, according to RBI Governor Shaktikanta Das, who presented the monetary policy statement last week.
If oil costs still rise, imports can imitate. As a result, demand for the U.S. dollar rises, strengthening the dollar versus the rupee, and therefore the Indian monetary unit continues to depreciate. within the foreign market, this reduces the buying power of the Indian monetary unit.
For more informative articles for government exams like UPSC, SSC, etc. visit the Gk quiz for the best exam material.
Before You Start Selling Old Coins Online
Before you decide selling of old coins the best route for you to sell your old coins, there are a few things to take into consideration. You'll probably want to think through things like coin identification, condition, and appraisal before putting your coins out there for sale; this way you can ensure you know how much your coins are worth and avoid under or overpricing.
Identify Your Coins
You must be aware of what kind of coins you have in your possession before you start selling them. Knowing the worth of a coin requires you and the buyer to know the exact history and type of coin that is being sold. Here are a few tips to help you identify what kind of coin you have:
First, check your coin's date. This is one of the easiest ways that can help you identify an old coin. In the case the date is not there, don't panic, there are a few other factors that can help you determine a coin's value.
Check for the denomination. When trying to identify a coin, you can also check for the denomination. This is found on the coin; simply check if it has a face value or not. If it doesn't, it might be a medallion. These two can be easily confused, with many people thinking they have a silver coin when they have a silver medallion instead.
Check the language. Determine if you can understand the coin's language or text; this will help you identify the coin's region of origin. if it happens to be in a language you can understand, it might be from your region or one nearby.
Check the coins' shape. Coins minted before the late 1700s tend to have an irregular shape. Those printed from 1037 to 1967, for example, have more of a polygon shape, very similar to a circle.
These are all important telltale signs of a coin's worth, but they are not the whole story when it comes to coin identification. You should also check for factors like the image on the coin, the coin's size, thickness and diameter, its condition, and more to help you understand your coin collection. All of these are helpful when identifying what kind of coins you have, therefore helping you know how much these can be sold for.
Find out the approximate value of your coins
You'll want to know approximately how much your coins are worth before selling them. But before you do this, remember that most coin price guides out there are giving you a retail value. The retail value is how much the coins are worth if you're buying them from a dealer.
The amount you'll earn for selling those same coins could be anywhere from 20% to 50% less than the prices listed in those guides, depending on the given coin and its condition. Why? This is because dealers buy at wholesale prices, which allows them to pay for business operating costs such as overhead and wages.
Don't expect to receive the prices listed in any retail coin price guides. Also, keep in mind that coins or paper money in poor condition may only be worth their face value.
Buying and selling old coins in India you can contact GkExams at 8902747033, 8372050632. They are the trusted dealers and they will tell you the best deals for your coins.