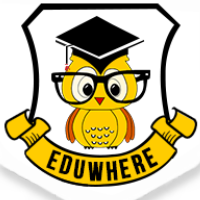 ---
Posts made by Neha Gore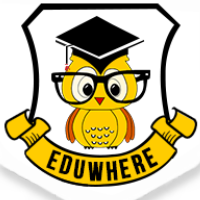 The country has done the job and made a decision that would decide the future for the next 5 years.
As the Lok Sabha election results are out, it is clearly visible that BJP has set some new records in this Lok Sabha elections.
Not just India but various countries around the world are considering Indian elections as an example to learn. From all the 542 seats throughout the country, here is an overview for the Lok Sabha elections seats by the top 6 parties:
Bharatiya Janata Party is a clear winner with 303 seats that makes 55.8% of the complete polls.
Indian National Congress had many expectations for this Lok Sabha polls but it didn't work out much for the majority. INC has acquired 52 seats with 9.2% of the total polls.
Dravida Munnetra Kazhagam, from Tamil Nadu and Union Territory of Puducherry, managed to get 23 seats. This Dravidian Party managed to get 4.2% of the polls.
All India Trinamool Congress founded by Mamata Banerjee acquired 4.1% seats with a number of 22 amongst the total.
YSR Congress Party is a regional political party in the states of Andhra Pradesh and Telangana in India. It has won 22 seats overall with 4.1%. Jagan Mohan Reddy shall be the Chief Minister.
Shiv Sena from Maharashtra managed to get 18 seats with 3.3%.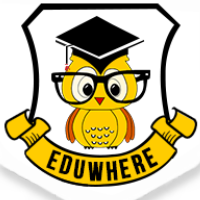 The banking sector is one of the biggest recruiters in the country, and many young aspirants look forward to working in this sector. State bank of India as it turns out is one of the most desirable institutions to work at in the banking sector. Complete with the employee benefits in terms of house accommodation allowances, and other allowances, as well as the impeccable career mobility.
The 2019 SBI notification declared vacancies for 8653 employees this year. As of now, you're at that stage of your preparation where you can have a look at your syllabus again to check what you need to work on and what you don't need to.
Let's understand the SBI Clerk exams first. The SBI clerk exam is divided into Prelims and Mains. For the Prelims, one has to prepare for English language skills, numerical and reasoning ability. This is a one-hour exam. If selected, candidates head for the mains, which will be a two hour 40 minutes long exam. In this section of the exam, the candidate has to prepare for these sections:
General/financial awareness
General English
Quantitative Aptitude
Reasoning ability and computer aptitude
You can prepare for the exams from various online platforms like Eduwhere which has multiple online mock tests for various banking exams.
SBI Clerk Prelims preparation:
English language skills:
This section is composed of critical segments such as comprehension passages, grammar-based exercises such as jumbled paragraphs, vocabulary tests, figures of speech, and so on and so forth.
Examiners and testing agencies construct the paper with the idea of testing your reading and writing skills of the English language. Of course, this is at a very basic level, but it is important for one to do well in this section. It has extra implications on how candidates will deal with real-time interactions and communications in English in both verbal and non-verbal forms.
To ace this section, one must try to practise as many grammar related problems as they can. A good hold at the rules will help you clear jumbled paragraphs, sentence correction and figures of speech related questions. More than that, one must work on increasing their vocabulary as this can be a tricky part of the paper.
Numerical ability:
The quantitative section is essential for every banker and to uphold the credibility of a banking institution, it is ensured that arithmetic is at the tip of most candidates.
You can definitely crack this section if you make a note of all the formulae and solutions. Checking out older papers and continuously test yourself via mock tests is very important to get through this section quickly. Many have considered this to be time absorbing section and since, speed and accuracy are a basic requirement of this exam, strategising your weaknesses and strengths can go a long way. One only gets 20 minutes for a total of 35 questions, so it's time to get started. Do make sure that you're up to date with basic class X level mathematics syllabus.
Reasoning ability:
This section can either make your speed or completely break it. Many have struggled to piece together their logical arguments to answer these questions, so it is important that one treats this section with utmost carefulness and preparedness. The more you practise, the faster your analysis.
Series, data interpretation, syllogism, coding-decoding are some of the segments of this section. The trick to nailing this section is by identifying the pattern in the questions. Often these questions are regurgitations of older questions or are ones with a similar tactic to employ. All said and done; once you practise for this section, you come to realise just how easy it can be. It is recommended that candidates attempt the maximum number of questions in this section in minimum time. This can only be done if difficult puzzles are dealt with at the very end.
Another recommendation is to start with the questions that are not in the form of puzzles. For one, alphanumeric series, or syllogisms could be a faster place to begin!
General awareness section:
This section comes in the mains along with the aforementioned sections. It is also the fastest section to complete. Thorough knowledge of current affairs, general knowledge is critical for this section. One needs to be a regular reader of newspapers and magazines regularly. There's a lot to remember, but many have suggested that making flashcards or noting down trivia tidbits can help with memorising information.
A pattern has been witnessed wherein questions are related to events in the past year to a month prior to the exam. So keep an eye out for everything in the given time frame. Remember, this section also covers financial awareness. It would be a game changer if you kept up with budget-related information such as the ones you find in the Union Budget. Also make sure to read up on the Indian Constitution and keep in touch with bank related knowledge, such as a plethora of varying banking terms, abbreviations, as well as themes such as health, science, world, national current affairs.
Computer awareness:
This section is so important and can be clubbed with your studies of general knowledge. It tests your knowledge of computer hardware and software. So spending some time daily, would help you complete this section. Some of the important sections in the syllabus include generations of the computer, covering the history of computation and its fundamentals.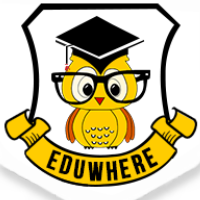 The official notification for SBI SO recruitment has been released. Sbi is conducting an examination for hiring Specialist Officer posts for Bank Medical Officer (BMO II), Manager Analyst & Advisory for Fraud Management. The recruitment is done for a total of 65 vacancies. On 21 May 2019, the link to apply online for SBI SO was activated. All the details are mentioned in the official notification of SBI for the Specialist Officers. The final date for submission of application is 12 June 2019.

SBI SO vacancy details:


| | |
| --- | --- |
| Post Name | Vacancy |
| Bank Medical Officer (BMO - II) | 56 |
| Manager Analyst | 05 |
| Advisor for Fraud Management | 03 |
| Total | 65 |
SBI SO 2019 Important Dates
Starting Date for Online Application: 21/05/2019
Final Date for Submission: 12/06/2019
Last Date for Payment: 12/05/2019
Last Date to print application: 12/06/2019
For filling the application form, GEN/ OBC candidates have to pay Rs 750/-. For SC/ ST/ PWD/ EWS candidates Rs 150/- is the amount to be paid.
The selection process of SBI SO includes Short Listing, Interview and Merit List.
Candidates can take Eduwhere online mock tests for better preparation of SBI SO.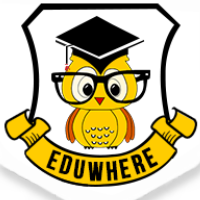 SBI PO 2019 is going to be conducted in July. Candidates are in full swing and warming up themselves for one of the biggest recruitment drives for banking jobs. Among other sections, General Awareness also is an integral part of the SBI PO exam. You can easily score well in this section by making regular reading and revision a habit as you don't need to solve anything. You just check the question and mark the answer if you know it. However, to score well in the exam, it is vital that you follow the right strategy for SBI PO General Awareness preparation. To help you prepare well for the General Awareness section, here are some tips and tricks.
SBI PO 2019 General Awareness Section Overview:
Total Questions

40

Total Marks

40

Marking System

• 1 mark for each correct answer

• 0.25 negative mark for each incorrect answer

Sectional Cut off

Yes
SBI PO General Awareness Syllabus
Having knowledge of the syllabus is the first step in the preparation process of any exam. When it comes to SBI PO, GK section further covers different sections including static GK, current affairs, and banking and economy. To score well in this section, you need to focus on all the areas and read the best SBI PO books. Given below is an overview of the syllabus covered in the General Knowledge section:
Current Affairs
This covers current affairs and news of the last six months. National events, International events, New appointments, Sports and Awards are some of the topics from which questions are asked.
Static GK
Questions in static GK revolve around currency, thermal power stations in India, national parks, temples, stadiums in the country, forests, art and culture, and capitals of countries. Questions in this section are asked to test your knowledge and retention capability.
Banking and Economy
As you are appearing for a banking exam, having knowledge of the economy and banking is vital. Questions in this section cover topics like GDP, CRR, Repo Rate, IPO etc. Though the questions in this section are simple and straight forward, you can answer them correctly only if you have worked on your basics of banking and Indian economy.
Preparation tips for SBI PO GK Section
Make reading a habit
Make reading a habit and include time for reading newspapers, magazines and General Knowledge books. With easy access to the internet, you can also check current affairs on your phone while travelling. Download different news apps like In Shorts, Times of India and other mobile apps for SBI PO exam preparation. You can cover around 80% of GK syllabus if you regularly read the newspaper for just six months.
Make notes
Keep a journal with you in which you can make notes of important events, important dates, venue of recent World Summits and new committees made by the government. Keep going through these notes regularly to remember them. It will save your revision time and help you quickly recall the information during the exam.
Solve mock tests and previous year questions
Though GK section has more questions around current affairs solving SBI PO online mock tests will help you understand the type of questions asked in this section. You will also get a better understanding of banking and static GK questions and will be able to prepare yourself accordingly. Solving online mock tests designed as per the latest trends will also help you quickly answer the questions in the final exam.
Get the best books
Though there are hundreds of books available for different exams, you cannot go through all of them. To ensure that you are well prepared for the exam, get only the best books. You can also check information on the internet. But when surfing the internet for SBI PO exam preparation, make sure you don't get distracted and choose only a few selected websites.
SBI PO Books for General Knowledge:
Banking Awareness by Arihant Publications

Static General Knowledge by Arihant Publications

Newspapers and Banking Services Chronicle (BSC Publications) for Current Affairs

Pratiyogita Darpan Magazine
Don't depend only on one source
Both relying on just one source and over-diversifying the study material is risky. Make a list of the best resources, books, mobile apps and notes to give your preparation in the right direction. Ask your teachers or experts for the best magazines, newspapers and books to strengthen your SBI PO preparation.
Final notes:
SBI PO 2019 is just a few weeks away. This is the time you speed up your preparation and get ready for the final match. General Awareness section doesn't need a lot of time to solve all the questions. But this is possible only when you are prepared well for the exam and this can be done by staying updated with the current affairs, regularly solving mock tests and revising the facts and important updates.
All the best!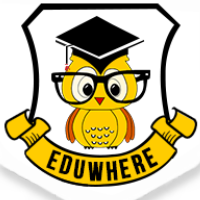 The Southern Railways is taking applications for recruitment to the positions of Junior Engineers/ TMO/ P.Way Post. As per the notification by RRCMAS, the eligible candidates can apply for the same examination. Candidates can get a clear idea by downloading the application format from RRCMAS website.
There are a total of 142 vacancies open for the same.
Here are the vacancy details mentioned:
JE/ P. Way- 84 Posts

JE/ TMO- 58 Posts
The last date of submission of application is 6 June 2019.
Candidates can apply by logging in to RRC MAS website and then downloading the application form mentioned in the notification for GDCE JE/TMO 7 JE/P.Way. Fill up the application form accurately and submit the same.
Here are the Eligibility criteria for Junio Engineer/ TMO/ P.Way Posts
An upper age limit of 42 years as on 01.07.2019 is eligible. However, age relaxation is applicable for SC/ST/OBC candidates.
With regards to the educational qualification: JE/P.Way candidates should have a diploma in Civil Engineering or B.Sc in Civil Engineering of three years duration. The same is required for JE/TMO including Mechanical. Production/ Automobile/ Electrical/ Electronics/ Instrumentation/ Control Engineering.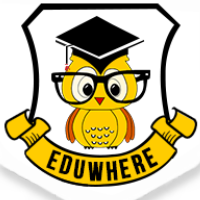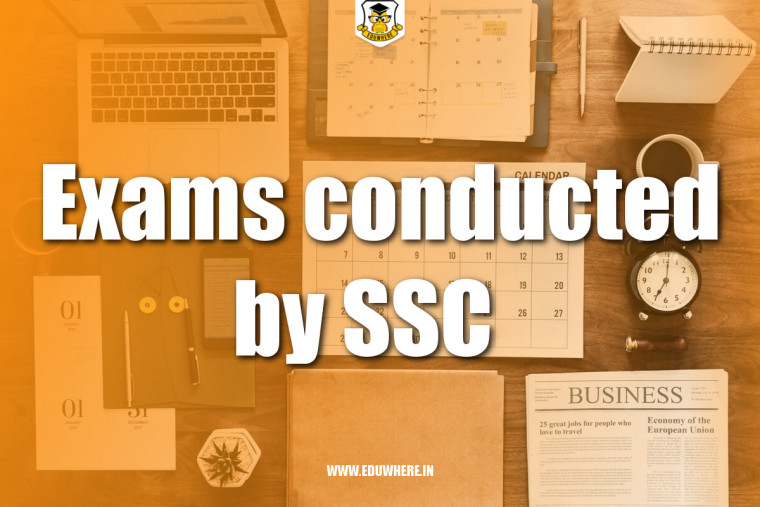 The Staff Selection Commission conducts several exams every year. Here is a list of the upcoming SS Examinations with the exam dates.
SSC Junior Engineer Exam- 2018 (Paper- II) This is a 300 marks paper, for which 2 hours will be allotted to the candidate. The examination will be conducted on 29/12/2019

SSC - CGL Exam 2018 (Tier-III) This examination is conducted to recruit staff to various posts in ministries, departments and organisations of the Government of India. The examination will be conducted on 29/12/2019

SSC - SI in CAPFs, ASI in CISF & SI in Delhi Police Exam -2019 (Paper-I). The examination will be conducted from 11 to 13/12/2019.

SSC - JHT in Subordinate Office/ Hindi Pradhyapak Exam-2019 (Paper-I). The examination will be conducted on 26/11/2019.

SSC - Multi Tasking (Non-Technical) Staff Exam-2019 (Paper-II). The examination will be conducted on 17/11/2019.

SSC - Selection Posts Phase -VII. The examination will be conducted on 14 to 18/10/2019.

SSC - CHSL Exam 2018 (Tier-II). The examination will be conducted on 29/09/2019.

SSC - SI in CAPFs, ASI in CISF & SI in Delhi Police Exam -2018 (Paper-II).The examination will be conducted on 27/09/2019.

SSC - Junior Engineer Exam-2018 (Paper-I). The examination will be conducted on 23 to 27/09/2019.

SSC - CGL Exam 2018 (Tier-II). The examination will be conducted on 11 to 13/09/2019.

SSC - Multi Tasking (Non-Technical) Staff Exam-2019 (Paper-I). The examination will be conducted on 02/08 to 06/09/2019.

SSC - CHSL Exam 2018 (Tier-I). The examination will be conducted on 01 to 26/07/2019.

SSC – CGL 2018 Tier-I Exam. The examination will be conducted on 04 to 19/06/2019.

SSC - JHT, Jr Translator & Other (Paper-II). The examination will be conducted on 26/05/2019.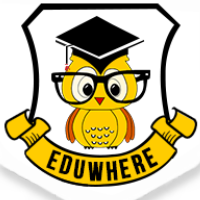 After Prelim and Mains exams, the interview is the next most crucial part of SBI PO recruitment process. To ensure the final selection, along with the written test, the candidates also need to clear the personal interview round. In this round, the interview panel tries to understand your intellect as they are well versed with your knowledge based on your performance in the written test. The personal interview is a way to check aspirant's traits, capabilities, potential, personality and decision-making skills. Looking at the importance of this round, candidates do not take the risk of going unprepared. From the dressing code to the required documents and the type of questions asked in the interview, it becomes mandatory to prepare well for everything. After all, coming from the Prelims and Mains with the dedication and hard work should not go in vain at this significant and final step.
To help you get ready for SBI PO 2019, we have compiled a list of commonly asked questions in the interview. However, this is not the final list that anyone should rely on. The questions might vary, but at least, it will give you an idea of the type of questions asked from different sections like banking, general awareness etc.
SBI PO Interview Questions
Basically, SBI PO interview questions are divided into four parts. Candidates need to be well prepared for each section to pave their way for the final selection. Four parts covered in SBI PO interview round include:
Personal questions
Career-related questions
General Awareness
Banking related questions
To ensure that you successfully clear the interview, you need to pay equal attention to all the parts.
Personal questions
As the name suggests, in this section, the interviewer aims at understanding you as a person. They focus on getting an idea of a candidate's personality and ask personal questions related to their interests, hobbies, likes, dislikes, family etc. Usually, the next question in this section depends on your answer. For instance, if you say you like reading books, the next question might be names of books, their writers, storyline, your favourite book etc.
Common personal questions in SBI PO exam
What are your hobbies?
What are your strengths and weaknesses?
What makes you different or better than other candidates?
Which newspaper do you read?
Why didn't you opt for medical in class 11?
How to answer: Don't try to be over smart as you can get trapped in your own answers. Try to give witty and simple answer rather than weaving any stories as the next question most probably will depend on your answer.
Career-related questions
The interview panel tries to know you aspirants and ambition by asking career-related questions. It also gives them a glimpse of your past jobs (if you have done any). They also check your dedication towards your job by asking career-related questions.
Common career-related questions in SBI PO exam:
Where do you see yourself after five years?
Why do you want to join the banking industry?
How are your strengths?
How will you contribute to the bank and the country's development?
What is more important for your – job security or excellent package?
If your junior is elder to you, how will you make them work for you?
Why do you want to make a career in banking after completing your graduation in engineering?
How to answer: Try to be as honest as you can. Be clear about your career aspirations; talk about your strengths and previous achievements to show your competence.
Banking related questions
As SBI PO is banking exam, asking financial and banking associated questions is not a surprise. This is the most essential part of the whole interview process as based on your answers, they decide your banking and financial knowledge.
Common banking questions in SBI PO exam:
Do you know about any book called Basic Banking?
What are the types of deposits in Bank?
What is financial inclusion?
Name the banks which are in loss and which are in profit?
Explain CIBIL?
What is NPA?
What is the tag line of SBI?
How to answer: Knowing the answer to every question is not important, but ensure that whatever you speak, you are confident about it. Saying no for a question is better than giving the wrong answer and leaving a negative impact. Recall the information from the SBI books and other banking books you read and answer with full confidence.
General questions
This part mostly has general knowledge related questions. This helps interviews understand how updated you are with the things happening around you. One can expect random questions ranging from India's freedom movement to the Indian political system, terrorist attacks, relations with neighbouring countries etc.
Common GK questions in SBI PO exam
Is India ready for Smart cities?
What is the latest news?
What is the tenure of Lok Sabha members?
What is the Indian constitution?
Surgical strike by the Army - What is your opinion about it?
How to answer: You can perform well in this section, only if you stay updated with the facts and things happening around you. Read newspapers and GK books for banking exams.
Tips to answer questions in SBI PO interview round:
Always wear a smile on your face
Be prepared with all the details about yourself and your family
Stay updated with the latest news
Go through banking books
Practice mock interviews with friends or family members
Create your own list of questions and practice to answer them
Sit in front of the mirror and practice answering questions to gain confidence
Pre-interview formalities
Along with the questions, you should also be careful with other important things required on the interview day. Here are some points to keep in the mind:
Reach the interview venue before time
Be well-dressed (choose formal outfit)
Carry all the documents for verification
Wish you all the best for your success in SBI PO!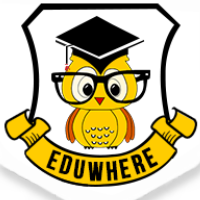 What are the top names that strike your mind when we talk about the wealthiest cities in the world? New York, Tokyo, Los Angeles and London are the top names one can think of. Be that as it may, in light of yearly total national output (GDP) development Asian urban communities – especially those in India – are controlling in front of other urban economies.
Recently research was conducted by Oxford Economics which tells, all the top fastest growing cities in GDP will be in India for the year 2019- 2035.
Also from West to East, here are the top cities included in the list.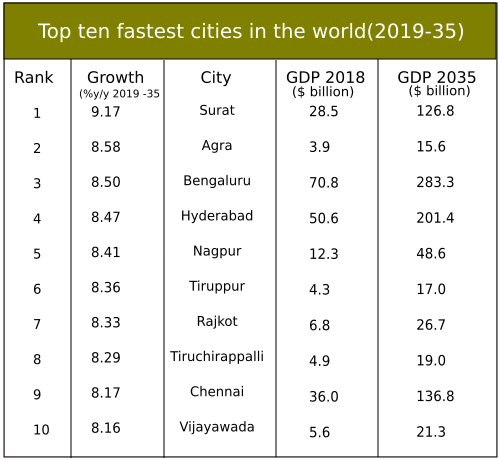 Here is a list of all the 10 states:
Surat: The diamond city of the country will have the fastest economic growth in the world.
Agra: The city of Taj Mahal is not just a hub to the wonders of the world but also the second fastest economic growing city in the world.
Bangalore: A city famous as the Information Technology hub of the country is one of the cities that will generate an average GDP of 71 billion.
Hyderabad: Apart from being well known for its Biryani, Hyderabad is supposed to witness a GDP growth of 8.47 %.
Nagpur: One of the hottest cities in India, Nagpur will have 8.41% GDPA.
Tiruppur: This city located in Tamil Nadu and the fifth largest urban agglomeration of the state is in the list too.
Rajkot: For Gujrat's state Rajkot, the GDPA growth percentage will be 8.33%
Tiruchirapalli, Chennai and Vijayawada are the other cities on the list.
Also from West to East, here are the top cities included in the list.